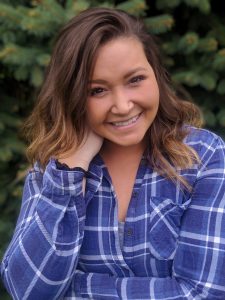 Hello! My name is Brittany Turriff and I am the newest addition to the Naperville Counseling Center team! I wanted to take this opportunity to not only share a little bit about me, but really give an insight into my personality and how I arrived where I am today. As a preface, my overall personality revolves around humor with a dash of sarcasm. So for your entertainment here is a little about me and how I made my way to becoming a Therapist.
I attended Benedictine University where I received my Bachelor's in Communications and my Master's Degree in Clinical Psychology with a concentration in Marriage and Family Therapy. One may ask, "how did you go from Communications to Psychology?" My honest answer is that I didn't have a clue what I wanted to do with my life. All I knew was that I was supposed to go to college, and I was lucky enough to be able to continue playing softball at a competitive level.
I started with my basic general education classes, and as time continued I really wasn't getting pulled in any direction. I dabbled with an Art minor because I always loved to doodle and was fairly creative. However, I was realistic with myself and knew I wasn't passionate enough about art to pursue it as a career. So after several meetings with my advisor it was decided that I should think about Communications because it was broad and allowed me to go in many different directions. I was decent at writing, thought maybe I would get into web design, but after watching Jennifer Garner's "13 Going on Thirty," I figured it out! I was going to work for a magazine! I was going to be that really creative person who designed all of the pages and got to pick the pictures and all of the fonts… Well, that lasted about one semester. Then I thought, "I'm an athlete! Sports! I'm good at sports! Let's go that route!" So I shifted from magazine layout and design to wanting to be a Sports Broadcaster. That lasted for about 1 week after I had to give a presentation and my professor at the time basically said that since I was a female and didn't have a full knowledge of athletics I should discuss the "social aspect" of athletics. Basically, the drama, and what athlete is married to what model. You can see how that would deter a 19 year-old girl from not wanting to go that route. At this point I contemplated dropping out and becoming a tattoo artist!
As classes were winding down I had a few elective credits to fill and one of my best friends convinced me into taking a Social Psychology class with her. After taking that class my brain started to turn. I was super intrigued! I had always been a decent student, but didn't have any class that I shined in. This was the first time where I felt really engaged in a class. I was thinking more critically, asking questions, and was willingly doing the assigned reading! I started to feel like I had found my path. The kicker is that all of this happened during my Senior year and I had already finished all of the credits necessary to graduate with my Bachelor's in Communications. Panic ensued. I thought I had just wasted 4 years of schooling and had to start all over. So after crying in one of my professor's offices she ensured me that not all was lost! So I took the required prerequisite classes over the Summer and started graduate school!
Fast forward and I went on to graduate, get married, find my dream job, and live happily ever after!
But I tell this story because so many people come into my office (of all ages) and talk about how they feel lost, or don't know what to do with their lives, or they are falling behind this imposed timeline. The reality is, everyone has their own timeline and it's not always a straight line to get there. I would love to be able to say that from day one I knew I wanted to be a therapist, but the reality is that I was all over the place! Magazine Designer, Sports Broadcaster, Tattoo Artist, Physical Therapist, Architect… to name a few! The truth is that I floundered for a while, but with some guidance I figured it out, and now I have a career that I am passionate about!
What intrigues me the most about therapy is that it requires me to think, and to always be on my toes. 2+2 is always 4 (I'm terrible at math so if there is another answer out there let me know!) Individuals can come into my office with identical issues, but how they got to that point could be a completely different story. I am honored and grateful that client's come into my office and are willing to be vulnerable and share very intimate details of their lives with me. And, the best past is I get to talk to people for a living! We talk about life… the good, the bad, and the in-between. And through that process I am able to help people grow and feel more confident in themselves. If I'm being completely transparent, it's not totally selfless. Each client challenges me and helps me grow as a human and a therapist. And while not every case has a happy ending it's extremely gratifying to hear that I have helped someone make an improvement in their life, even if it may seem minor. I have met some amazing people through my career, in a professional and personal realm.
I understand that sitting in an office with a complete stranger and talking about your life can be extremely daunting and anxiety provoking! My overall style is very laid back so my goal is to help my clients feel comfortable and at ease. And like I prefaced, I try to incorporate some humor into my sessions because there is healing in laughter! As a therapist I do my best to listen and take the time to fully understand what is going on in an individual's life. With that, I am very real and honest with my clients because that is the only way change is going to happen! I am an eclectic therapist that utilizes multiple facets of different therapeutic styles to tailor and approach that is unique to the client. Styles include Client-centered Therapy, CBT (Cognitive Behavioral Therapy), Strength-based approaches, Positive Psychology, goal setting, as well as a Systems Approach. I basically look at the individual as a whole. I take into account their thoughts, feelings, behaviors, relationships, strengths, and focus on how to use that information to create positive change.
When I am not working I love spending time with my friends and family! If the sun is out, I am out! I love finding a great new spot where I can have a good drink and a great meal. I also still like to be creative when I can so I will often test my skills as a crafter and see what project I can make off of Pinterest!
I am beyond excited to be part of this team and am looking forward to meeting and collaborating with new clients to reach their personal goals!
Brittany can be contacted at bturriff@napervillecounseling.com or 630-590-9522 x10